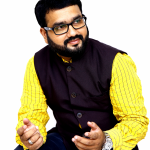 Mobile / WhatsApp :
+91 7397733573
Email:
info@hussainbasha.com
Father's Name : B. Macbool
Date of Birth : 03-06-1979
Gender : Male
Marital Status : Married and blessed 2 kids
Nationality : Indian
Known Languages:
English, Tamil, Hindi, Urdu, Malayalam
Mailing Address:
333, Iswaryam Nagar Extn.2, Konimedu, Redhills, Chennai 600052
Places Conducted Programs
UAE : Abudhabi, Dubai, Sharjah, Ajman, Fujairah, Al Ain

Kuwait

Oman : Muscat

Saudi Arabia: Riyadh, Dammam, Jeddah & Makkah

Qatar

Srilanka

India: Tamilnadu & Puducherry 
Psychologist, Special Educator, Life Coach, Visiting Professor, Author, Corporate & Soft Skills Trainer and  Social Activist
· M.Sc. (Applied Psychology) – Bharathiar University
· M.Sc. (Counselling & Psychotherapy) – VHET, TNO University
· M.Phil. (IB) – Alagappa University
· Ph.D. (Psychotherapy) – Central Christian University
· MSW (Master of Social Work) – UNIVERSITY RANK HOLDER
        School of Social Sciences, TNO University
· MJMC (Journalism & Mass Communication) – Alagappa University
· M.B.A. – Newport University
· M.A. (Personnel Management & IR) – Alagappa University
· B.Ed. Special Education (ID) – Balavihar Training Centre, TNOU
· LL.B. – Sri Venkateshwara University
• Certified as ENERGIA SOI (Structure Of Intellect-USA) Practitioner from Energia Wellbeing Pvt. Ltd.
• Certified as Life Skills Trainer from Acharya Nagarjuna University, Andhra Pradesh
• Certification in Personality Development from Royal Academy, Bangalore
• Certification in Hypnosis NLP from Institute of Mind Control & Development, Hyderabad
• Certified as Soft Skills Trainer from Perfect Soft Skills, Hyderabad
• Post Graduate Diploma in Advanced Psychotherapy & Counseling Techniques from Manasanthi Vocational Training Institute, Kerala.
• Diploma in Export Management from IIIT, Bangalore
• Certification in Environmental Awareness Training Program from CPR Environmental Education Centre, Chennai
• Certification in Arabic Language from AWQAF, Sharjah
• Certification in Tamil Literature from Tamilnadu Teachers' Association, Villupuram
• Certification in Social Work from National Service Scheme, Department of Education, Tamilnadu
• Diploma in Computer Science from Zenith
• Post Graduate Diploma in Computer Application from IFC
• Certification in typewriting in English language (Higher Grade) from Department of Technical Education
• Certification in typewriting in Tamil language (Higher Grade) from Department of Technical Education
Director – National Institute of Psychology & Research

Chief Trainer – MasterMind Consultraining

Founder – HU International

Co-Founder of SYNERGY INTERNATIONAL GROUP OF COMPANIES, Chennai

15 years of professional experience with reputed organisations in the UAE & India
· "Best Teacher" recognition and "Raja Kalaignan" Award presented by Thiru Anbil Mahesh Poyyamozhi, Hon. Minister for School Education
· International Achiever Award (Best Psychologist) from Assist World Records & India Pride Book of Records
· Honorary Doctorate from Commonwealth Vocational University
· SYPA Entrepreneur Award 2019 from Skilled Youth 
      Professional Association
· Sigaram 2018 Award from Arokiya Educational Foundation
· Aalumai Sirpi Award from Nambikkai Vaasala Trust, Salem
· Perarignar Anna Award from Sakthi Selvamani Academy for educational excellence.
· Best Citizen of India-2012 Award from IPH, New Delhi under "Best NRI Social Activist" category.
· Abdul Kalam Award 2021 from National Educational Trust
· Published study material on "PSYCHOLOGY & TEACHING METHODOLOGY" for B.A. (IS) course of Tamilnadu Open University
· Published a parenting book in the name of "Kuzhandai Manasu"
· Published a life enhancement book in the name of "Unarvai Unnai"
· Published motivational books in the name of "Vaazkai Vasappadum" & "Vetrikalai NLP"
· Writing article on Male-Female relationship in Samadhana Kalai Magazine.
· Published various articles in popular Tamil magazines and online portals
· Completed MoJo (Mobile Journalist) Course, conducted by Qiams, Chennai
· Anchored a spiritual program on Tamilkushi.com online Radio. 
· Anchored and directed an informative weekly program "INFOTIME" on DAN TV
· Written Script for "Kadal Kadanda Paravaigal" documentary (about "Life of NRIs")
· Co-directed and acted as protagonist in 3 short films
· Interviewed the scholars, doctors, politicians for popular web portals & newspapers
· Founder & President of ART OF PEACE FOUNDATION:
A registered Social Welfare & Educational Trust in Chennai to empower people. 
· President of JCI Chennai City for the year 2022
· Chairman of Arrahmaniyah Nursery & Primary School, Kallakurichi:   
· State Secretary – Vizhi (2016-2022):
A Human Resource Development organization to create awareness in Education, Employment &      Economic Development.
· Vice President – Indian Welfare Forum, UAE (2006-2016) : 
Involved in conducting Free Medical Camps for needy people, organizing Blood Donation Camps. Conducted   numerous Educational and Social awareness programs in the UAE.
· Secretary of Rotaract Club (1998-99): 
Conducted numerous educational exhibitions, visited various government hospitals, schools to conduct awareness programs. Co-ordinated college students for  environmental awareness & education program, conducted by Anglade Institute of Natural History in Kodaikanal.
· Member of Motherland Natural Studies (1997-98): 
Raised environmental & forest awareness during college days through Trekking, Cultural Programs & planted various kinds of trees.
· Coordinator of National Service Scheme (1995-96): 
Coordinated  school students to various remote villages to conduct social awareness programs.
Lectures & Conference Participated
· Participated in "DIDAC INDIA 2017" (Asia Pacific's largest International Exhibition and Conference for Educational & Training Resources & Solutions) on 19th, 20th & 21st September 2017 in Mumbai.
· Participated in Quality of Life in the UAE conference at Ajman Kempinski Hotel on 19.03.2013
· Participated in a lecture on "Arbitration in UAE", conducted by British University in Dubai on September 8, 2012
· Participated in NATIONAL CONFERENCE ON CHILD AND ADOLESCENT PSYCHOLOGY held on 10th & 11th February, 2011, Organized by CMR Centre for Media and Management Studies, Bangalore.
· Participated in Climate Control Awards function held at ATLANTIS The Palm, Dubai on Nov 23, 2011
· Symposium on Work Place Mental Health and Organizational Interventions, organized by UAE University in Al Ain, UAE on October 23, 2011 to commemorate World Mental Health Day
· Participated in Seminar on "Key to Success in your life", conducted by Mr. Sreechith Radhakrishnan held at Dubai on October 8, 2011
Training programs & Workshops Attended
· Participated in De-Addiction Workshop organized by T.T.Ranganathan Clinical Research Foundation (TTK Hospital) on 23.04.2019
· Participated in the National Level Workshop on Neuro Linguistic Programming (NLP) held on 3rd & 4th October, 2018 organized by the Department of Psychology at Holy Cross    College in Trichy
· Participated in the workshop on Memory Power, organized by Indian Institute of Mind Dynamics in Bangalore on August 12th, 2018.
· Participated in "Discover Yourself" workshop in Bangalore on 27th, 28th & 29th July 2018, organized by Peace For You Foundation.
· Participated in one-day workshop on DIGITAL MARKETING, organized by AMS MCA TECHNOWITZ TEAM in association with Quaide Milleth International Academy of Media Studies on 19.08.2017
· Participated in one-day workshop on NLP Subconscious ReImprinting in Mumbai on 27.07.2017, conducted by Mr. Ram Verma.
· Participated in one-day workshop on Entrepreneurship Development on 01.07.2017 in Chennai, organized by UNIPRO
· Participated in a Seminar on Neurological Levels organized by NLP-TA Circle in Chennai on 27.07.2014.
· Participated in "Parenting for 21st century" workshop conducted by Atmachena at Holiday Inn Hotel, Sharjah on  26.10.2013
· Participated in the workshop on Crisis Communication & Crisis Management Skills held at Grand Millennium Hotel, Dubai on 11.01.2012, organized by ETISALAT. Workshop conducted by reputed trainer Chris Kinsville-Heyne (UK)
· Participated in a 2-day workshop on "Practical Psychotherapy & Counseling Skills" in Tiruvalla,     Kerala from 12.11.2016 to 13.11.2016.
· Participated in "Career Guidance & Counseling using CBT" workshop, organized by   Chennai Counselling Services on 13.05.2017
· Certification in typewriting in both English & Tamil languages (Higher Grade) from Department of Technical Education
· Participated in "MoneyFirst" training program conducted by SSC in Chennai on 12.03.2017.
· Participated in one day workshop on Career Guidance & Counselling using     Cognitive Behaviour Therapy held on 13.05.2017. Organised by Chennai Counselling Services
· Participated in one day training programme on "Teaching Methodology" conducted on 28.08.2019 sponsored by office of the State Commissioner for the Welfare of the Differently Abled, Government of Tamilnadu.